Features

The permanent match is a reliable fire maker, waterproof, and works equally well in code weather. 
The striker is made of high-quality metal, can last for at least 15,000 strikes.  
The wick can be replaced when burned out, we offer a spare wick along with the item. 
As known as the "DRAGON'S BREATH IMMORTAL LIGHTER"
This nicely designed permanent match has a mini size, and with a key chain ring attached to its end, allows you to carry it easily.  Its body is covered with leather, which makes it look stylish,and you can use it as a decoration for your key chain. 
A permanent match lighter contains a metal striker and a fuel tank shell. It uses kerosene as fuel. A wick is attached to the striker, and a flint strip is on the shell. When using, lean the striker to the flint strip, slip it quickly to ignite the wick.
We just released a new version for this permanent match, the designer added a head sculpture to the striker handle, which makes it more fun to play with. 
Please refer to the following image, and pls click here for the new version.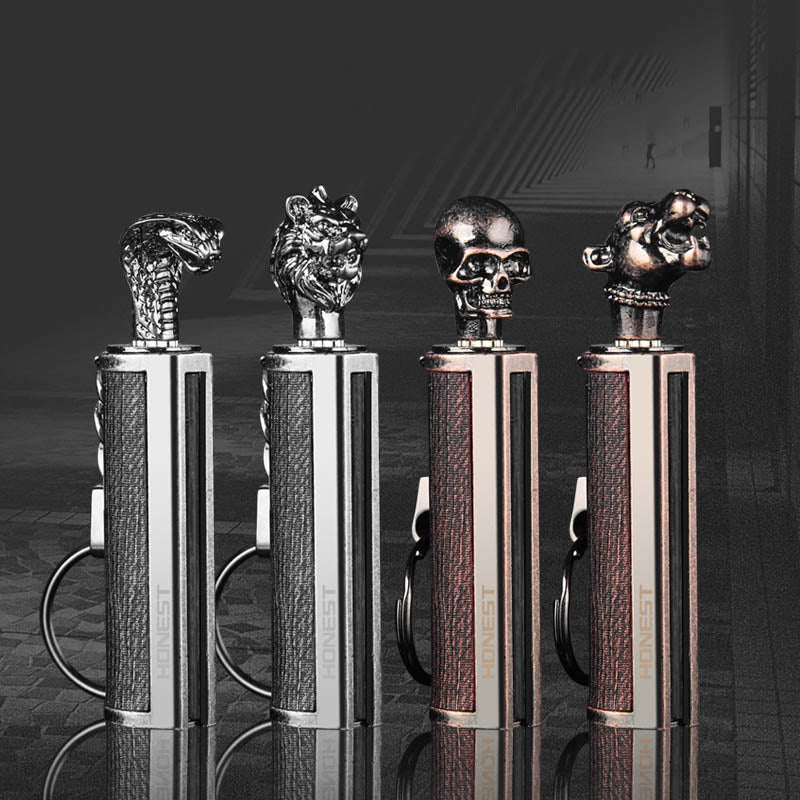 Note:
The fuel is not contained due to transportation safety regulations, please fill it with Kerosene. 
When striking, do not put your finger under the flint strip, in case the striker tip hurt your finger accidentally. 
Please don't keep it burn over 10 seconds, the wick might be burned when the fuel is burned out.
Specification: 
Weight: 37g
Size: 63*18.5*16mm